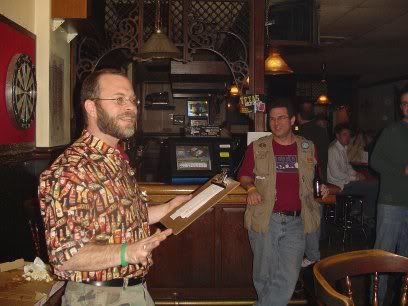 Poison Ivy, looking dapper in his official Pub Crawl Shirt, with Koyote in the background. Gotta love that great green letterboxing band on PI's wrist!!!
The whole thing started months ago after the mystery gathering in Virginia. I had such a great boxing day, but met next to no one and got five blisters. So on September 19 I wrote, "Now, someone please just organize an event in a bar that requires sitting. Or is that my job?" And Liz of the Penguin Patrol wrote "Yes, I think it IS your job! An event in a bar is just what we need!" Seconded by Hikers and Hound with "Hear, Hear. Poison Ivy's Pub Crawl. now THERE is a gathering to attend! "
There you have it, the birth of the Letterboxing Pub Crawl of 2006.
The day started at noon. Yuri Nahl (to whom I am extremely grateful) with his friend, Dan, pulled up at the house in W.V. and honked the horn. I had everything ready to go. I must have touched everything ten times in preparation, ticking off my mental checklist. 14 boxes – (I think) – a couple travelers, prizes for the winners, my letterboxing stuff, clipboard, maps, … was everything there? "LET'S DO THIS THING!"
We made it to Leesburg about an hour later driving through some heavy winds and wetness spitting down from the skies. We dropped off the box at King's Court Tavern and chatted with the bartender. "This is the day?" "Yep, this is it!" Headed downstairs to Ball's Bluff Tavern and passed the box to them. "What's this?" "That's the letterbox for today's pub crawl." "I don't know anything about a pub crawl." And so on. Each bar we'd hit on the circuit that day, fully remembered and was ready or had no clue but was willing to take a chance. "You mean about 40 people are going to come in here tonight and spend money?....Okaayyyy." One establishment was expecting to be over capacity and worried that crawlers would not be allowed to enter, but graciously offered to let the I.D. checker keep it at his table. Thank you, Champion Billiards. They also enjoyed the stamp (by Yuri Nahl) so much they asked if they could keep it after the event.
The weather was getting steadily worse. The heavy winds and spitting became rain. Rain became mixed with snow. Then finally snow. But all the boxes were poised and ready and the three of us had some time to kill. We grabbed some BBQ at Red, Hot & Blue and began our first beers of the day, then topped it off with some coffee from next door to bolster us for a loooooong evening.
Back across the highway we skipped, tra la, to Spanky's Shenanigans. The place was quite full with folks decked out in red and gold for their favorite team. We plunked down at the corner of the bar next to a smiling woman, who eyed me shamelessly. Alas, before the encounter could go anywhere, So So Bossy….I mean…SewSowBizzy appeared from nowhere and directed me to the Brew Hounds Table. "And bring the event stamp!" She ordered. SewSowDizzy, … er … Bizzy, had also had a long morning of planting her Bone-Us boxes. Eight numbered dog bones littered the route of pubs with dog-centric prizes for folks at the end. (We all got a little giggle out of the term Bone-Us.) She'd typed up and copied clues, which I folded and inserted into the maps of the route.
I made it back to the bar to discover the mysterious woman to my right exchanging stamps with Yuri. Turns out that the sly female was Geckospot, who was the first to arrive and order the first brewsky of the evening. What commitment. We exchanged, gathered our things and headed to the larger group of boxers, leaving Yuri and Dan to watch the game at the bar.
In the other corner, the exchanging frenzy had also begun. Stamps, beers and books were flying hither and thither and scattered recklessly around the tables, leaving no room for the ordered food. Nearly everyone in the bar had their eyes glued to the television screens, cheering or groaning in almost timed intervals. It was either the growing excitement of hoped victory "aaaaaaa AAA AAh hhHHH YES! YES! YES!!" Or the less popular (but more frequent) groanings of "GO! GO! GO! Oh &#%*$ no! No! NO!" So, feigning interest, I'd jump in on the tail of whatever cheer was happening at the moment and add in an adamantly disgusted "WE WAS ROBBED! MAN! AW!" And then look around to see if I fooled ANYONE.
After the designated drivers had stamped the special DD Box and received their DD buttons (sent to me by Carol Mills of one of the Carolinas), at last the first team, a ragamuffin litter of mutts of questionable breeding, the Brew Hounds, was ready to go. I walked them to the front and gave them a lovely tri-fold brochure containing the map and the scavenger hunt list, enclosed with SSBs Bone-Us clues and description of a mystery boxer. I read the scavenger hunt rules out loud, and sent them out into the cold and windy (but no longer wet) weather with a gentle reminder that they were in public.
I did this for each of the five teams. The other teams were Team Black Dog, The Catoctin Crawlers, Team Relentless and Team Green Dragon with The Reaper.
Once all were on their way and Dan, Yuri, Thorny Hedge and I settled down to sip a quiet drink (inside nice and warm) until half time. Then, off to the final destination, where we played a few quiet games of darts, sipped beer, and fought boredom while waiting for the first of the crawlers to arrive.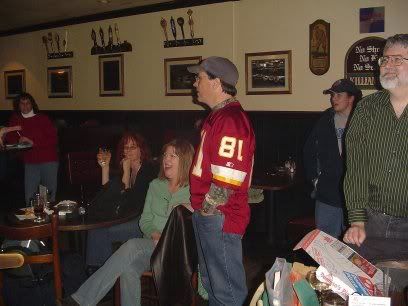 Lori of TGD watches Tempus Fugit and Dead Duck Chuck, members of Team Relentless. Scarab at far right.
The first group to stop in was Team Relentless. I owed them a drink so I bought their beer and coke while they stamped into the King's Court Tavern box, the Brew Hounds bone number 7 (hidden in the men's room – shame on you SSB) and the nasty little stamp carved by Lady Prisspott (hidden in the women's room). Lady Prisspott's late addition stamp was a lovely rear view of a partial moon, titled "Ivy's Butt Crack." Thanks LP. There will be repercussions.
One item on the scavenger hunt list was an empty toilet paper roll. At this point I learned of Team Relentless' strategy that in any bar, where the toilet paper was close to the end, Dead Duck Chuck would pocket the roll. But as the number of bars they hit increased, DDC started 'coring' the rolls of TP stocked in the bathrooms. That's ruthless competitiveness.
After Team Relentless headed off to snag a couple more bars, in rolled Team Green Dragon and the Reaper, the first of the teams to come and stay at the final destination. They experienced a flat tire 'luckily' only 50 feet from the final destination bar. Their arrival was followed shortly by the remaining teams, and after a quick call to AAA, the scavenger hunt tally could begin.
One item on the scavenger list was 'a stranger to Poison Ivy.' What they didn't know was that to pass the time, I introduced myself to all the folks there. Chances were, anyone they snagged to introduce to me, I already knew.
The rules, which were read out loud to the teams at the starting line, clearly stated "No items can be added after the tally has begun." "Only one item will be scored for each team" and "Tally Man decisions are unarguable." Well, that didn't go as well as I'd imagined. Perhaps, as iron clad as the rules were, I should've written them while drinking. One team had enlisted a lovely couple to come by from a nearby bar. Unfortunately, although they were wonderfully pleasant, interesting strangers, that team's tally had already been completed. And the rest of the evening I was pressured with adamant insistence, passionate pleas, and intimate physical pain from a team member trying to persuade me to give them 10 points for two strangers. "I WANT MY STRANGERS!" Sorry folks, you'd only have gotten 5 points, your tally has been completed and it's not enough to push you over the top anyway. "I WANT MY STRANGERS!" "GIVE ME MY STRANGERS!" Clearly violating the 'don't argue with the tally man' rule. I remained stoic.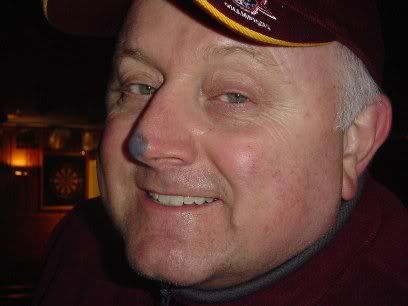 Gallant Rogue, sporting the below-mentioned blue pool chalk nose!
Another item on the scavenger list was blue pool chalk covering a nose. So, TGD's Brian, Gallant Rogue, Koyote and Dead Duck Chuck all arrived with lovely blue dots on their noses. Very cute. It made me wonder how many bars they'd been in with their blue noses. One crawler pocketed the pool chalk (breaking the 'don't steal' rule) and wouldn't share in an effort to keep other crawlers from contracting blue nose. A wonderfully nice and slightly intimidating boxer from NY may have at one point had blue on his nose, but didn't at the point of tallying. "WAIT A MINUTE !" he cried pointing at his nice, clean, pink nose. And more passionate pleas and adamant insistence (with character witnesses) began for the 20 points, ultimately resulting in no added points and a friendly bear hug of reconciliation. There was also another ruthless team scheming to lower the point spread with a scandalous false accusation that Gallant Rogue's blue nose was stamp ink and not pool chalk.
A potentially risqué item on the list was a lipstick kiss mark on skin below the belt and I was not disappointed in the results. I would have accepted a kiss mark on the hand, which naturally falls below the belt. What I got was a view of TGD Brian's calf, and the full moon of Dead Duck Chuck and Gallant Rogue. Thanks guys, you never disappoint.
Wonderful souvenirs from the occasion – which I'll need to incorporate into some traveling event stamps – are another item from the list, a team member's undergarment. I have in my possession, three pairs of underwear. Thank you, TGD Brian, Wink and a third person (please identify yourself for the recognition you deserve). One relentless competitor tried to pass off an undergarment as her own, but it was evident that she had picked it up at another bar. (Hmmmmm.) "BUT IT'S MINE" she argued, clearly breaking the 'don't argue with the tally man' rule "THEY GAVE IT TO ME." Again, I remained unbending.
Scarab and Nightowl made a cameo appearance at the final destination, having completed their prior engagements, and got to join in on the fun, pick up and share some personal travelers and witness the announcements of the Non-Winners and the ultimate pub crawl winning team. Out of a possible 400 points, Team Relentless eeked out a win over the Brew Hounds with a lead of only 2 points. Thus the official pub crawl activities for the evening ended with more groans and cheers.
Geckospot was the first to arrive and the last to fall. She was sipping a dark beer as we hugged goodbye and I hopped into the car and honked at the Koyote couple who were waiting for a cab.
First and foremost, a huge outpouring of thanks goes out to Yuri Nahl. He helped to brainstorm and bounce ideas. He visited the different bars with me in the planning stage. Yuri carved four of the pub stamps. He came up with many of the items on the scavenger hunt list. He picked me up at noon on the day of the event and he volunteered to be a designated driver. He stayed through to the end. Thank you. Thank you. Thank you. You may have your first choice of the acquired scavenger hunt underwear.
The stamps were carved, wonderfully (and I'm very grateful), by Koyote, Gallant Rogue, BullDawg, SewSowBizzy, Tempus Fugit, Yuri Nahl and myself.
Thanks to CAM of the Carolinas who sent Designated Driver buttons to wear for the event. Each DD got to wear the pin and stamp into the DD Letterbox, carved by Koyote.
The perfectly sized event logbook was created and sent to me by Lori of TGD.
Brian of TGD also offered a beautifully created logbook for me to do with as I wished. I presented it to Yuri Nahl for all his help and cooperation.
Also in attendance was the traveling event stamp, Pudge. Wink, of N.Y. brought it down for the group to enjoy. Thanks Wink!
Thanks also to the Pepe's for the e-publicity on their blogspot and to AQ for e-hosting the event.
And finally to Curtis, the bartender at the King's Court Tavern, and all the other establishments and bartenders we raided, who will probably never read this, thank you.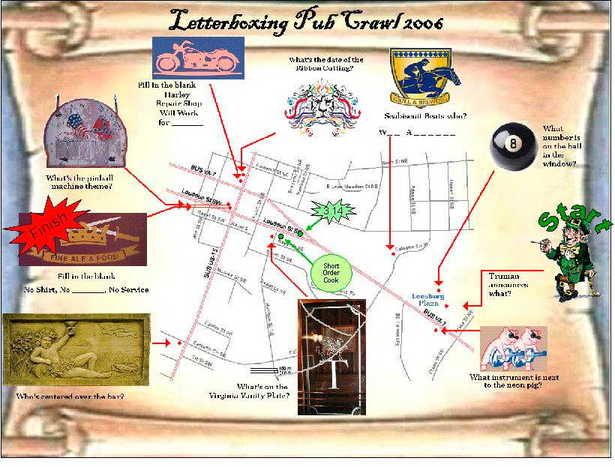 The official Pub Crawl Map